Have you seen Kimberly's new blog look? I had the opportunity to give her blog a "make-over", head over to
My Craft Spot
and take a look around, then grab her blinkie on her left hand sidebar, and add it to your blog for your chance of snagging four of her wonderful stamps set... which I love!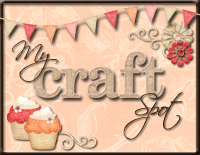 If you are interested in a blog make-over or just a few tweaks I'll be glad to help out. I'm not a professional but I enjoy giving blogs a new look, and am always looking for new blogger tips and tricks.
These are the three blogs that I've designed... thus far.